Professional assistance to resolve
personal and psychological problems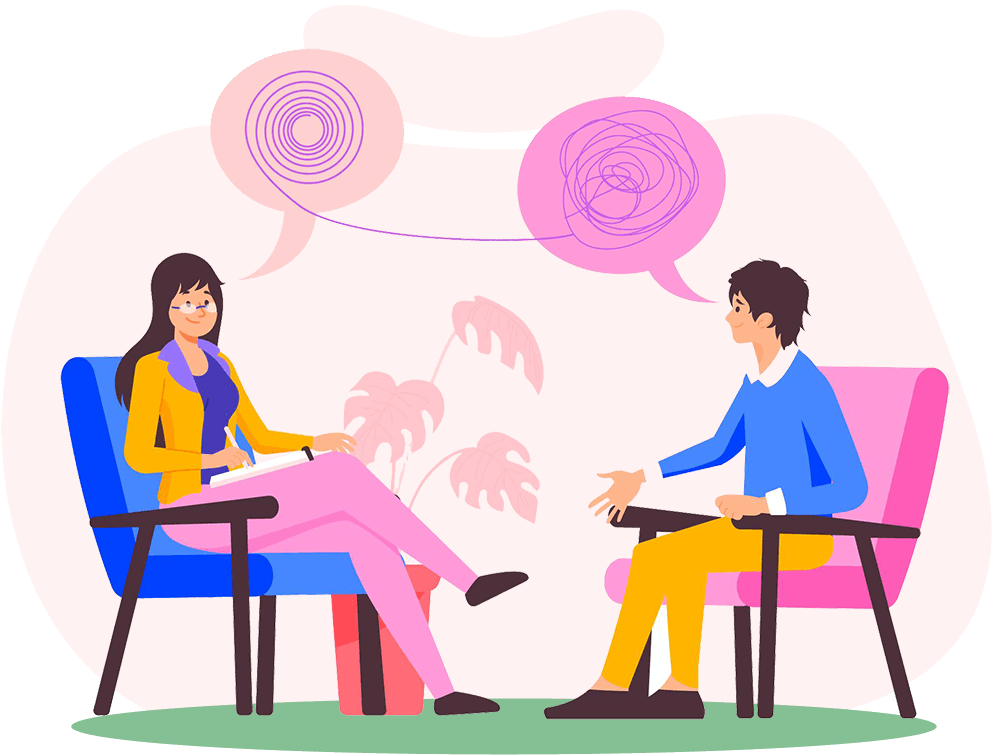 Counselling
Braintism offers professional assistance and guidance to empower our clients to resolve their emotional issues. Our talk therapy is designed to help people effectively understand and resolve their psychological issues that could be hampering their daily life and activities. Emotional difficulties could be overwhelming and they can affect the wellbeing of an individual.
Emotional wellbeing is important for everyone's holistic development. Thus, we offer counselling to individuals with or without a mental diagnosis. Counselling helps people overcome their emotional challenges and live a more productive and meaningful life. Our team focuses on improving the quality of life of our client.
Types of Counselling
Relationship Counselling
Relationship counselling aims to enhance the quality of the relationship of the couple. We focus on solving their problems, improving their communications and conflict resolving skills.
Educational Counselling
Our educational counsellors guide the learners to select the right path. We understand the individual's interests and skills and based on the analysis, we offer assistance and guidance to the individual. We provide this service to everyone, including children or even parents who need better guidance.
Mental Health Counselling
Mental Health counselling is not only offered to people diagnosed with a mental illness, instead, it is available for both people with and without a diagnosis. The aim is to improve the mental wellbeing of the individual.
Rehabilitation Counselling
Rehabilitation counselling is offered to individuals dealing with substance related issues, like alcohol or drugs. It is also offered to people with eating disorders and several other behavioral issues. Our aim is to help our clients modify their behaviour patterns.
Role of a counselor
Our counselors interact with our client and offer them the guidance and assistance needed to cope with the problem.
Evaluate problem areas
Guide them with the coping mechanisms
Create goals and treatment strategies for our clients
Encourage them to speak without hassle
Continuously asses the condition of our client
Provide our clients and their family regular progress updates
Offer support and education to the family members
Why should you go for counselling?
If you or your loved one is dealing with any of the issues mentioned below, please feel free to reach out to our counselling team to improve the condition.
Substance Abuse
Eating Disorder
Relationship Difficulties
Anxiety
Anger
Depression
Eating disorders
Stress
Trauma
Gender identity and sexual orientation
Difficulty in performing better in everyday life
Any other emotional or mental difficulty
About The Founder
About The Founder
Nishtha is a Special Educational Needs Consultant and a Psychotherapist who has graduated in Psychology from Royal Holloway University of London, UK. She then progressed her educational career by pursuing her post-graduation in Special and Inclusive Education from University College London – Institute of Education, UK.
Nishtha continues to work in various academic and non- academic settings offering customized multisensory intervention plans to children and young adults with learning difficulties and special needs.
As a consultant Nishtha works with parents and teachers delivering adequate information and providing guidance to better help children with their diagnoses.
Nishtha Shah
Founder of Braintism
Testimonials
Difficult to find an expert who can guide you in a proper and correct way to raise your kid and deal with the difficulties he/she is facing ... that's what Nishthaa and the team Braintism does... Rajkot is very lucky to have you Nishthaa to guide and nurture our kids. The positive approach - the one to one consultations with us Parents and the various techniques bring about MIRACLES in kids' lives... I consider myself extremely lucky and immensely proud that I had a student such as you... Please continue doing the excellent job that you are doing... Praying to God and thanking him to have such a faculty and such a facility in our city... THANK YOU AND GOD BLESS...
Jaydeep Shukla
One of the best clinic for counselling. I came here for my personal matter and import resolve within few days only just buy talk and by the suggestion. It is true that we have to implement, but it is for sure that we definitely get motivation to implement and get the solution. Best part, she has completed "PSYCHOLOGY" from London... Thank you Nishtha madam...

Dr. Manthan Thakkar
Nishtha at Braintism was exceptional in guiding my child for developing his speech in weak areas. She has an amazing place with latest amenities and toys for kids. My kid loved her sessions. Thank you and highly recommend.
Chandni Patel
I'm a young lady seeking help for all over wellbeing from Nishtha, and I have nothing to say else for it is just absolutely wonderful an experience being with her and the staff around! Aside from great efficacy and progress I am experiencing after the 6 sessions I have had with her, the atmosphere of the place and the warm nature of the people make it seem less like a clinic and more like a loving home. Perhaps I am yet to tell her this personally, but I have some very meaningful and thought-provoking talks with her, and wholeheartedly wish I was helping her through the start of this stupendous endeavor of hers. I would most definitely want to see anyone who is struggling in their mind to come and seek help in Braintism. She will try her level best to never disappoint, no matter what comes :))
Janya Govani
Copyright Braintism © All rights reserved